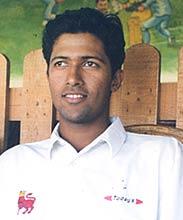 I have been a huge Wasim Jaffer fan since forever. He has had a strange career really. For many seasons, he kept piling the runs but wasn't picked. Then, when he was picked for his first stint in the team, he wasn't in the best of form. He was also shown up against movement, paricularly versus the English. You have to make the little of the smallest opportunities you get in Indian cricket as there are so many players competing for spots.
Jaffer found himself out of reckoning and many others were tried in the mean time. The period also saw the shift of Indian cricket power to the Bengal clan. Despite Jaffer making runs for season after season after being dropped, he was not getting a look in for the team. Little hope remained for Jaffer to make the team. I thought I had seen the last of him in the Indian cricket team.
Funny things happen though. Power shifted from Calcutta to Mumbai and Jaffer found himself back into the test team. He has been making good of the opportunities now. None has been more impactful than the current inning he is playing. India were trailing by 130 runs after the first inning was over. India faced a humilating defeat on what is a batsman's paradise more often than not – Antigua of course. Cynics may point out that the pitch flattened out. No one can take the runs away from Jaffer coming in a pressure situation.
He still has to answer whether he can cope up with movement like seen in England. I hope he can for we don't have many good openers in India!