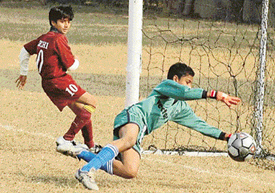 In Visitors, I invite one person each week to share perspectives on a sport, a sporting event, sporting aspects or any thing in between. This week, Vijay Krishna, a huge football fan joins us to analyse Indian football as it stands today. If you would like to contribute for a future edition of Visitors, do not hesitate to e-mail me.

By Vijay Krishna
What gives the game of football its universal appeal? The answer is simple: it is the game of the masses. That is precisely why "the beautiful game" is so popular everywhere. In that case, why isn't it popular in India? Of course, it is popular. Why else would anyone want to watch games in the middle of the night?
But what of Indian football? Without resorting to any other means, answer one simple question. Who captains the Indian football team? Baichung Bhutia, you say? Sure of the answer? Well that underscores why Indian football isn't taken seriously by many, though football per se is rising in popularity amongst the youth of this country.
And yet, this was the country which qualified to play in the 1950 World Cup finals. Of course, it's another story that we didn't travel because the football team insisted on playing barefoot. It might also surprise many to know that some of the country football clubs are older than most popular football clubs in Europe, including Manchester United, Real Madrid and AC Milan.
So what ails Indian football? Is it politics, lack of money, lack of interest or are we simply condemned to support Brazil, Italy, England and the like? To understand the situation better, I spoke to a few officials in some football associations. People in such positions will hardly concede that it is internal politics which stalls the development of the game. Lack of money is the reason everyone cites.
Lack of money for what? Officials argue at the national level, domestic football is more popular than domestic cricket. There is a lot more money on offer too. But football associations do not command the same amount of resources as does the BCCI. One of the major expenses is in conducting national-level competitions. This entails a lot of spendings; but everyone claims that competitions are the only way to popularise the sport.