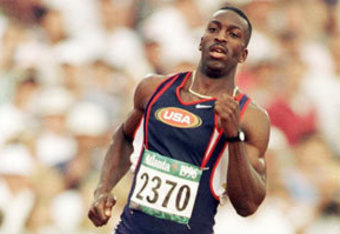 One of the joys before a major sporting event is watching videos of previous sporting extravaganzas on TV. ESPN-Star is showing films of past Olympics, just like they did for the Football World Cup and are doing for event like Wimbledon for ages. If you can, you should catch a few of the Olympic films being broadcast regularly which will put you in prime condition for the London Games later this year.
Speaking of prime condition, Michael Johnson in 1996 epitomized that word like perhaps only a handful few. Bit of a back ground. Johnson had emerged couple of years before the 1992 Barcelona Olympics. He was young and in prime condition. The favorite. Food poisoning of all things meant his Olympic run turned into a nightmare and he didn't even qualify for the 200 metres final. Johnson called it the biggest disappointment.
So what did Johnson do about it? Before the 1996 games, Johnson kept winning. What happened in '96 is part of sport folklore. From Wikipedia:
On July 29, Johnson easily captured the 400 m Olympic title with an Olympic Record time of 43.49 seconds, almost one full second ahead of silver medalist Roger Black of Great Britain. At the 200 m final on August 1, Johnson ran the opening 100 meters in 10.12 seconds and finished the race in a world record time of 19.32 seconds, breaking by more than three tenths of a second the previous record he had set in the U.S. Olympic Trials, on the same track one month earlier—the largest improvement ever on a 200 m world record.
What I find even more impressive is Johnson saying in the Olympics film I watched that he had two mistakes in the 200 m run, one of which resulted in an injury which meant he was no longer in prime condition for the 400 metre relay (in which he did take part).
Nothing could have stopped Johnson winning the 200 metre in 1996 though, really. He was THAT prepared. You look at his body from 1996, you look at the experience he had gained from 1992-1996.
By winning in both 200 and 400 metre races, some thing most athletes didn't even think of running at the time, Johnson created new pathways. The victory margins are reflective of how good Johnson was. However, it also shows how we was not going to leave any thing to chance by having that big a gap from the rest of the best the world had to offer at the time.
Michael Johnson was prepared and nothing could stop him.